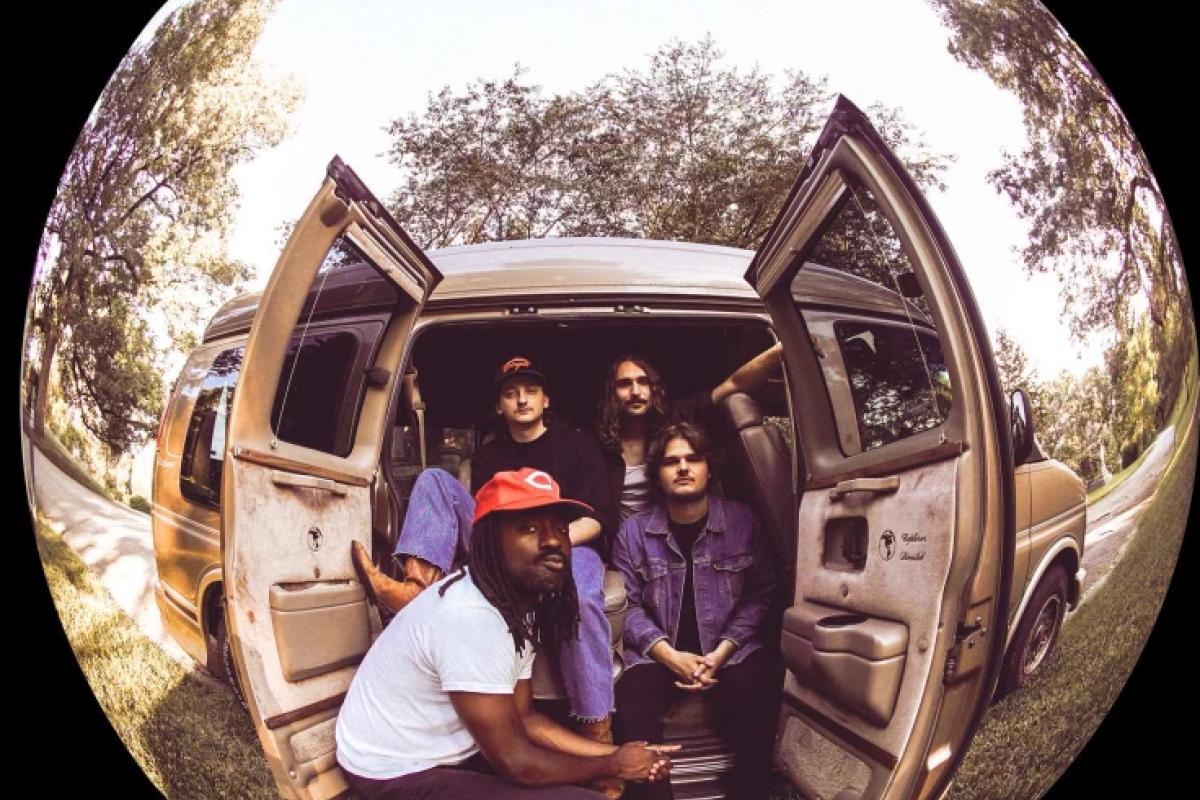 An Interview with Mosant

Cincinnati-based, alternative pop-rock band Mosant have become a staple for locals and are one to follow if you don't already. Comprised of Ohio natives Joey Gibson (guitar), Nathan Hoeweler (drums), Chandler Hoffert (bass/vocals), and Zach Swelbar (guitar/vocals); the quartet have only been playing together since Spring 2022 and have already garnered a loyal audience who are eager for more projects. Choosing their name from a French poster in Swelbar's apartment, Mosant (originally Mossant) explains how the group formed: Chandler and Zach went to high school together and Zach met Joey and Nathan while working at a coffee shop. The members had all been in overlapping projects before eventually forming Mosant. The group immediately bonded over a shared love for the music of the Beatles who have served as an inspiration for them since childhood with Mosant even dressing up as the Beatles for a Halloween show in 2022.

When it comes to songwriting, they described their approach as "collaborative, spontaneous, and relaxed," taking them anywhere from fifteen minutes to months to finish a song. "We'll send voice memos of parts of songs one of us has and then we'll talk it out," says Hoffert, "Sometimes it's just one person bringing something to the others, but we all have a part in finishing it." Whether they're collaborating or someone is bringing a song to be finished, they all hope their music inspires the same feeling in the listener: joy. Mosant has so much fun each time they play and hope that their audience feeds off that energy and their music to experience a moment of happiness. The quartet mainly perform original songs with Gibson and Hoeweler's favorite original to perform is the more recently written "Ninety-Five." When performing "Ninety-Five" the band feels like they can ease into a more laid-back place where everything is doing just what it needs to. Hoffert and Swelbar cite "Got It" as their favorite to perform as it is incredibly fun to play and has a good mix of both their vocals on the track. Currently, these songs can only be heard live as the group only has two songs released across streaming platforms.

The band recently finished tracking their first record which they anticipate for a Spring 2024 release. In the next twelve months, Mosant hopes to continue playing shows and would like to expand their audience with performance dates outside of Ohio and potentially a tour while continuing to document their lives through song. The group has a long-term goal of releasing more albums and eventually would love to sign to a label. Mosant plays a free show at MOTR Pub with the Dead Bolts and Fat Sal Saturday, September 2nd at 10:00 PM.

Follow Mosant on Instagram at https://www.instagram.com/mosantband/
Sarah Sheffer is a student majoring in public relations at the University of Cincinnati and an intern at MOTR Pub and the Woodward Theater. She is president of the Public Relations Student Society of America on campus and hopes to have a career in entertainment post-graduation.