Back to top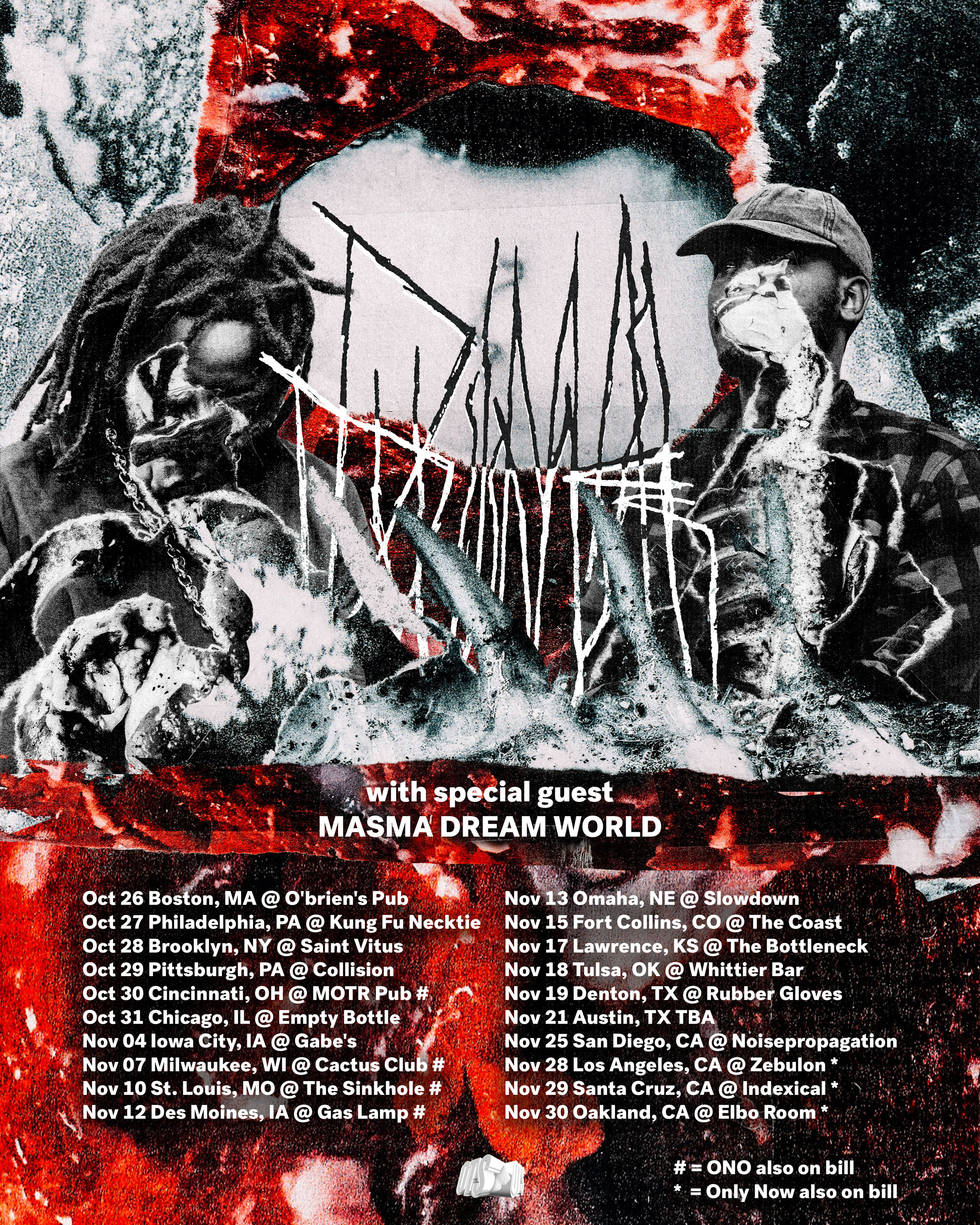 DUMA
Martin Kanja (aka Lord Spike Heart) and Sam Karugu emerge from Nairobi's flourishing underground metal scene as former members of the bands Lust of a Dying Breed and Seeds of Datura. Together in 2019 they formed Duma (Darkness in kikuyu) with Sam abandoning bass for production and guitars and Lord Spike Heart providing extreme vocals to the project.
Their unique sound fuses the frenetic euphoria, unrelenting physicality and rebellious attitude of hardcore punk and trash metal with bone-crunching breakcore and raw, nihilist industrial noise through a claustrophobic vortex of visceral screams.
Duma are a sinister force facing pain and difficult emotions head on is the place from which Kanja writes. A sonic aggression of feral intensity with disregard for styles, the duo promises to impact the hungry East African metal scene moving it into totally new, boundary-challenging experimental territories. Their self-titled debut album was released August 7th 2020 on Nyege Nyege Tapes and has received the best accolades from the press, including best album in several end-of-the-year lists (Metal Hammer, Pitchfork, The Wire, The Quietus…)
With their latest release a 7″ on Subpop's singles club and a new AV collaboration with Jesse Kanda, forthcoming work will feature a remix for Mdou Moctar and a collaborative album in the works with Indonesian duo 'Gabber Modus Operandi' and with Brazil metal band Deafbricks.
MASMA DREAM WORLD

Devi Mambouka, known as Masma Dream World, is a multi-disciplinary artist and sound therapist. Known for her otherworldly and haunting exploration of the shadow side, Mambouka's music is heavily influenced by her multiethnic heritage, sacred lineage and personal evolution to overcome trauma, abuse and addiction. Born in Gabon, Africa to a Gabonese ambassador and Singaporean mother, Mambouka immigrated to the United States at age 12, grew up in the Bronx and became one of the youngest influential voices in the NYC nightlife scene. She promoted parties and DJ-ed in legendary NYC venues like Son Cubano, Lit Lounge, and Lotus. She curated music for the 2012 Alicia Keys' Black Ball Redux.
Mambouka later went on to start a non-profit organization, America Mambouka, to provide art supplies to an after school program in Harlem connecting artists, musicians and DJs with underprivileged youths to promote artistic expression. Yoko Ono and Sean Lennon were among some of the first artists to join charitable efforts through the organization. Mambouka was also a singing waitress at the Famous Sammy's Steakhouse performing in front of many legends including Clive Davis.
In 2017, Mambouka created Vibrobath, the world's first vibroacoustic sound bath which was featured in Buzzfeed "Ultimate Bucket List." In 2021 Devi appeared on The Housewives of New York City, performing a healing ceremony for Season 13 episode 2.
Her most recent album as Masma Dream World, Play At Night, was released in Fall 2020 by Northern Spy Records. Mambouka resides in Brooklyn, NY, where her spiritual technology company Vibrobath is headquartered and based.