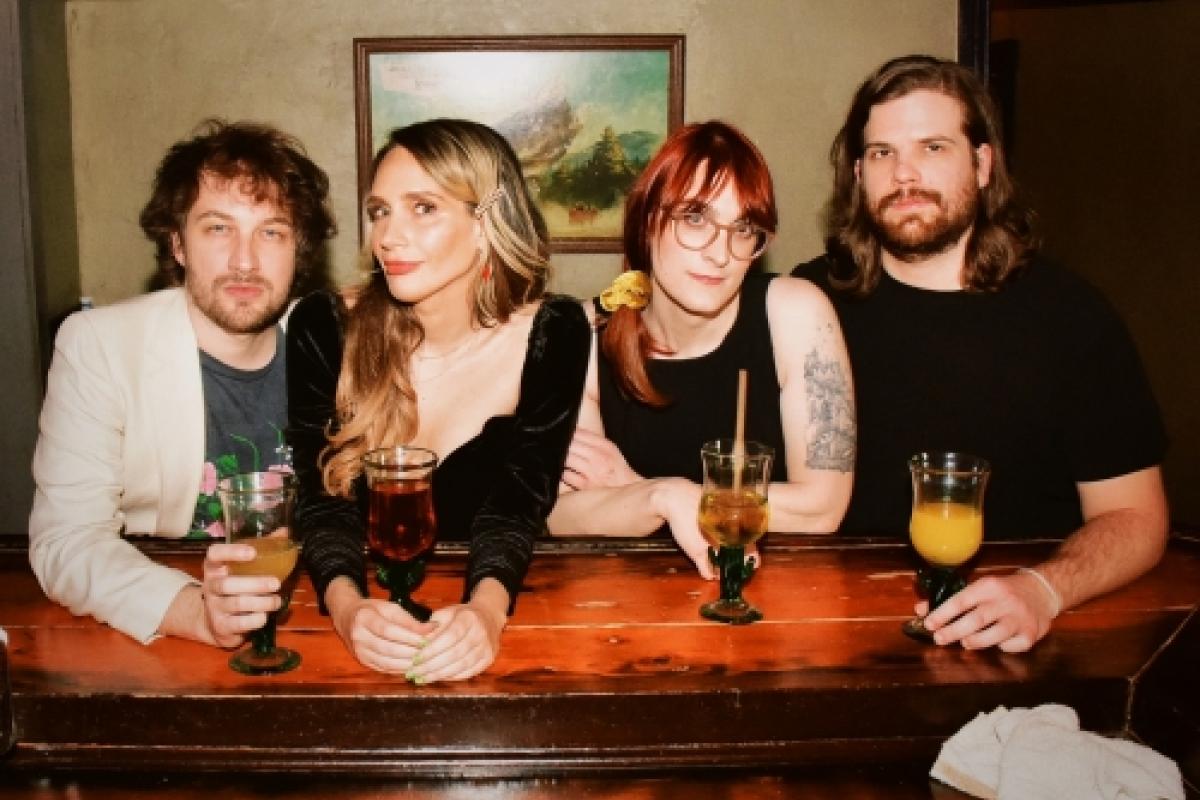 MOTR Pub Presents:

Event: SPEEDY ORTIZ w/ FOYER RED
Date: Wednesday, October 4
Times:
4-7:30 free admission 
7:30 doors, 8:00 show
* $2 off any sandwich at MOTR on day of show with proof of purchase *
***
About
SPEEDY ORTIZ
:  
"Necessary brattiness" is the motto for Speedy Ortiz's dauntless new collection of songs, Twerp Verse. The follow-up to 2015's Foil Deer, the band's latest indie rock missive is prompted by a tidal wave of voices, no longer silent on the hurt they've endured from society's margins. But like many of these truth-tellers, songwriter, guitarist and singer Sadie Dupuis scales the careful line between what she calls being "outrageous and practical" in order to be heard at all.

Twerp Verse was tracked in Brooklyn DIY space Silent Barn, mixed by Omaha legend Mike Mogis (Bright Eyes, Rilo Kiley) and mastered by Grammy-nominated engineer Emily Lazar (Sia, Haim, Beck). The record pulls from the most elastic pop moments in Squeeze's Argybargy and the seesawing synth-rock of Deerhoof and the Rentals. With Dupuis on guitars, vocals, and synths, supporting guitarist Andy Molholt (of psych pop outfit Laser Background) now joins Speedy veterans Darl Ferm on bass and Mike Falcone on drums - and together they accelerate the band's idiosyncrasy through the wilderness of Dupuis' heady reflections on sex, lies and audiotape.

Dupuis, who both earned an MFA in poetry and taught at UMass Amherst, propels the band's brain-teasing melodies with her serpentine wit. Inspired by the cutting observations of Eve Babitz, Aline Crumb's biting memoirs, and the acute humor of AstroPoet Dorothea Lasky, Dupuis craftily navigates the danger zone that is building intimacy and political allyship in 2018. Now as public pushback against the old guards reaches a fever pitch - in the White House, Hollywood and beyond - the band fires shots in disillusioned Gen Y theme "Lucky 88," and casts a side-eye towards suitors-turned-monsters in the cold-blooded single "Villain." Closing track "You Hate The Title" is a slinky traipse through the banality of this current moment in patriarchy - in which survivors are given the mic, but nitpicked over the timbre of their testimonies. "You hate the title, but you're digging the song," Dupuis sings wryly, "You like it in theory, but it's rubbing you wrong." Tuned smartly to the political opacity of the present, Twerp Verse rings clear as a bell.
 
CHECK OUT this official video for
"Ghostwriter":
https://www.youtube.com/watch?v=V4L5vn4rzog
***

About FOYER RED:

Brooklyn's Foyer Red makes sweet yet abrasive songs that careen into delightfully unexpected places. They bounce between time signatures, boast bass lines and guitar riffs that clang and shimmer, and feature vocals that seamlessly criss-cross over each other. The band started as a trio with singer and clarinetist Elana Riordan, drummer Marco Ocampo, and singer/guitarist Mitch Myers. The three would email each other song ideas and record the ones that stuck. In 2021, they started playing music together in the same room and immediately came out with the Zigzag Wombat EP, which earned high praise from outlets like Stereogum, BrooklynVegan and Pitchfork, who said, "they make fuck-you crayon rock. At its best, their debut is a little bit freaky and more than a little bit funny." Though they had been a band for only a few months, their self-recorded and charming debut proved that they had hit the ground running almost fully formed with a distinct, tongue-in-cheek, deconstructive take on indie rock.
 
CHECK OUT this official video for "Pocket": https://www.youtube.com/watch?v=IuLEbgZc87I
***

More about:
FOYER RED:
https://linktr.ee/foyerred
https://www.foyerred.com/
https://www.instagram.com/foyer_red/